Stone materials for Swimming Pool
Views: 39 Author: Echo Publish Time: 2022-07-27 Origin: Site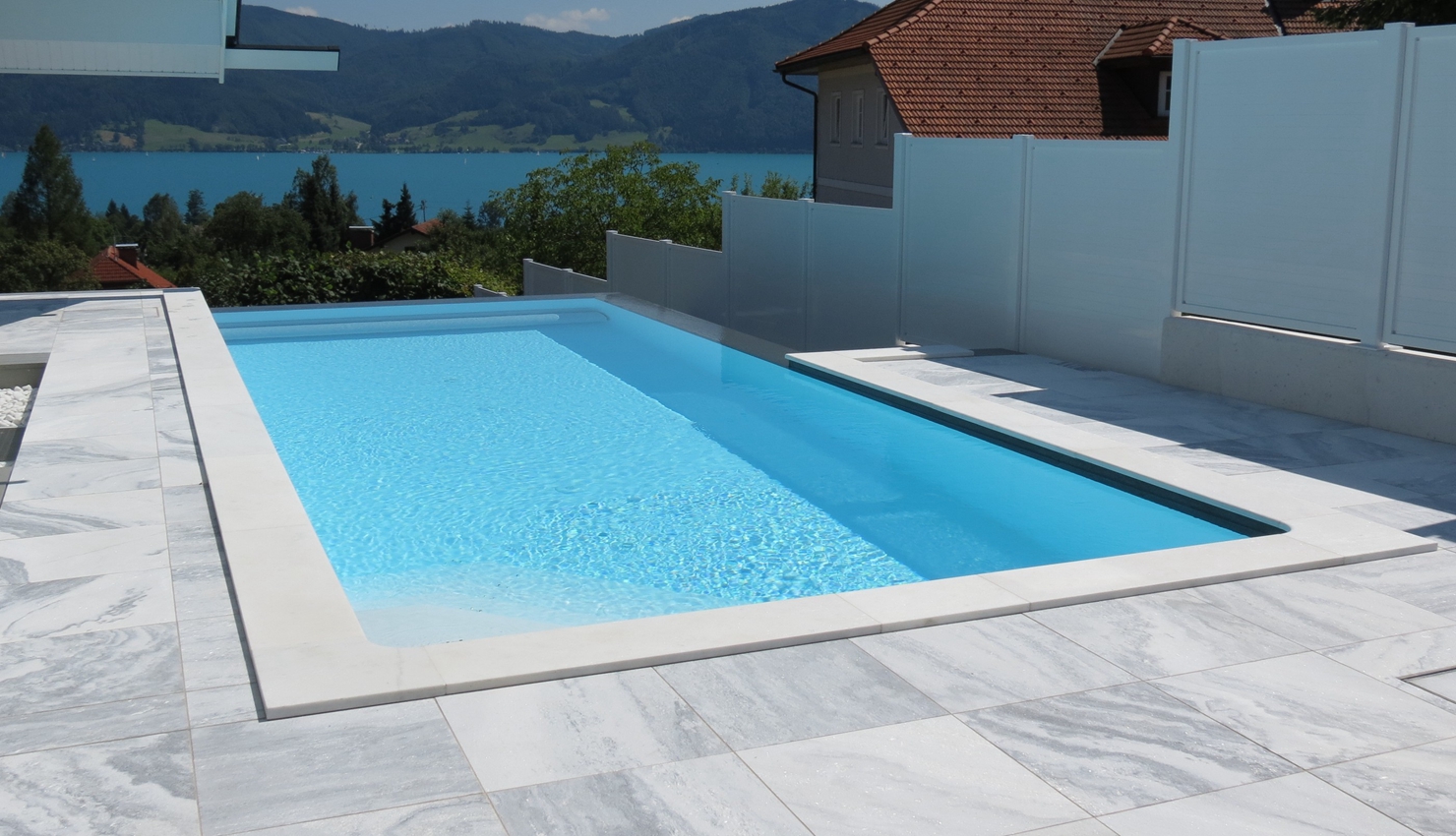 Swimming is a very good sport, many people in Europe has swimming pool in their outdoor. Both of marble and granite as swimming pool tile/ board has been very popular, especially during the outbreak of the epidemic, more and more people choose doing sport from home.
There are several materials you may use for your swimming pool, read on to learn the top 4 natural stones you may choose for your pool if you are thinking about using natural stone.
1-GRANITE
Granite is the solution if you need a hard substance. It has the potential to rank among the top four natural stones you may select for your pool tile due to its strength, durability, and exquisite look. Generally speaking, granite is highly water resistant and somehow more widly used.
And Beige Granite, Dark Grey Granite and black granite are quite welcome in market.
2-Limestone
While limestone is frequently recognized for the earthy tones frequently found in historic buildings, the natural stone is also offered in a very warm tones. These vivid hues can last years under the sun or any kind of weather. This natural stone has a smooth texture. Limestone tiles are one of the softest natural stone on the market thanks to their texture. Like Chinese Bluestone, compared with Belgium bluestone, not so much fossils in side but also brings you a cozy feeling with soft tactile.
So it is also a nice selection for outdoor or indoor swimming pool tiles.
3-Basalt
Chinese basalt G684 from Bai Lin Dazhang Mountain Fuding City has storage of 50000 million cubic meters, is one of the national building stone. It is a typy of black rock that comes from a volcano. Compared with granite, basalt has very noble black looking, after flamed and brushed, the surface has very special pattern, which remains a popular choice for swimming pool tiles.
4- Marble
Marble is made up of recrystallized carbonate minerals. Full of color and change is the most fascinating thing about marble. There are many countries in the world are rich in marble, such as Turkey, Iran, Italy and Brazil are four biggest Original Exporting country of marble. Shuitou City is the largest marble distribution center in China, where marbles from all over the world can be found. Marble is not only used in swimming pool panels, but also in hotels and luxury designs.
These are the top 4, although there are many more materials available. Always go for quality since it will pay off in the long term.